Our month­ly "in demand" roundup up tells you exact­ly what fur­ni­ture to sell on Apt­De­co this month. Get the inside scoop on what cat­e­gories and brands are sell­ing the fastest on the site, aka what buy­ers want right now. It's a seller's game at Apt­De­co, and demand for trendy fur­ni­ture is always high. While all types of fur­ni­ture sells on the site, these are the most sought after pieces at the moment. Mean­ing, if you have one of the below items that you're ready to part ways with, you should list it ASAP.
April's Top Sellers
Buy­ers can't get enough of the below items. They're sell­ing like hotcakes—so hop to it!
Wall Decor
Wall decor is gain­ing in pop­u­lar­i­ty, along with all types of decor. Think: wall art, shelves, 3d art—anything you can nail to a wall counts. With spring around the cor­ner, the excite­ment for spring clean­ing and home refresh­es is ramp­ing up, mean­ing peo­ple will be look­ing to make aes­thet­ic changes to their homes more often these next cou­ple of months.
TL;DR: sell your unwant­ed wall decor for a pret­ty penny!
Desks
Can't say we're hap­py to see desks on the top sell­ers list (call it Covid PTSD), but peo­ple are eager for a desk upgrade this month! Is it time for a refresh of your work­space? Sell it and trade in for some­thing new-ish.
Armoires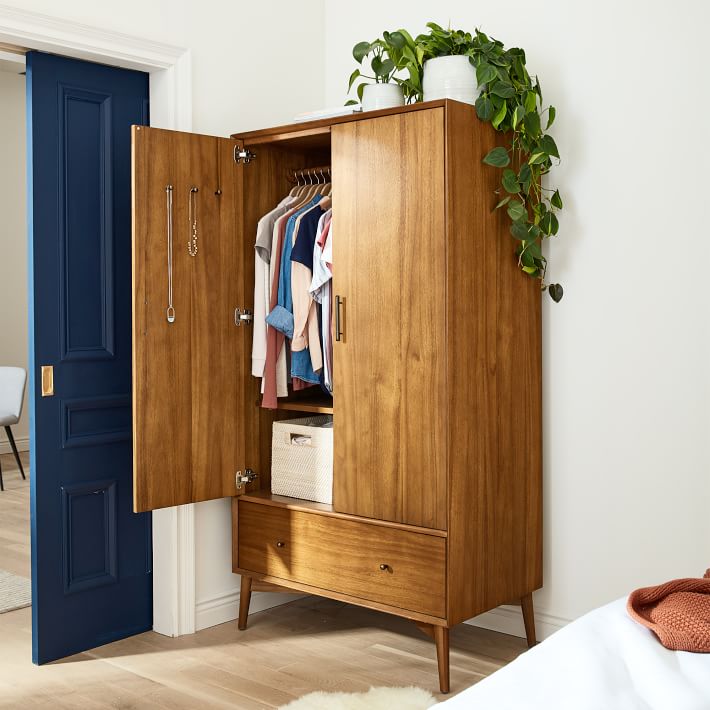 Armoires—always a great small space solu­tion. They can func­tion as a clos­et and dress­er, and take up more space ver­ti­cal­ly than hor­i­zon­tal­ly. They also add more flair to a small room than a tra­di­tion­al dress­er might. If you're ready to sell one of these bad boys, the buy­ers are plentiful.
Bookcases
Book­cas­es are the per­fect item for a small space or rental, which is why they're so pop­u­lar on Apt­De­co. They offer end­less decor vari­a­tions with­out putting holes in your wall—a win-win. Book­cas­es are pop­u­lar in many shapes and sizes, but we're see­ing a lot of min­i­mal­ist and indus­tri­al-look­ing ver­sions fly­ing off the shelves site. Have one of your own to trade in? Sell it here.
Table Lamps
Poten­tial­ly in line with the refresh theme we're see­ing, table lamps are hav­ing a resur­gence. Table lamps are an easy upgrade that make a big dif­fer­ence. If you have one to sell, now's the time to get on it.
April's Top Brands
These are the brands that have grown in popularity the most this month. People are searching for these often, and ready to purchase.
Have an item from one of these stores? It's like­ly to sell quick­ly, and leave you with a chunk of change!
Our list of the most in-demand items on Apt­De­co changes month­ly and is affect­ed by sea­son­al­i­ty and trends. Check back here every month to get the lat­est updates on what fur­ni­ture to sell.
Ready to list something new?
Or, check out our tips on how to sell faster.